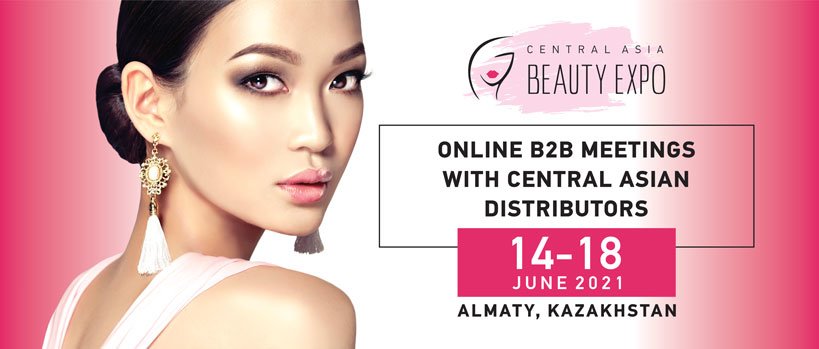 PARTICIPATION FEE: 1000 USD
ATTENDEES: distributors, chain stores, pharmacies, wholesales, retail stores, online shops of Kazakhstan, Kyrgyzstan, Azerbaijan, Uzbekistan, Tajikistan.
HOW WILL IT PROCEED?
Online

B2B meet

ing will be in Hotel. Will last whole day. We will invite all buyers who are interested in your products. Buyers who cannot come, will attend online.

There will be tables with company products. For each company separate promoter,

who w

ill be in touch with your manager

Also we will make conference on Zoom platform. Each company can make presentation for 10 minutes.
After application and payment, companies have to send short presentation of their products till 7th May. We will make special presentation of participants for buyers.

Companies have to send samples of products till

7th May

(conditions we will sent by request)

.

During

B2B meet

ings in hotel we will put all products on separate tables and interested buyers could touch and try them.

From 17th May till 13th of June we will start advertise these meetings: mailing, calls, Whatsapp, during offline exhibition, Instagram/Facebook, Google.
Meetings will be divided for countries and regions. For example, 14th of June – Italian companies meetings, 15th of June- Korean producers meetings (exact schedule will determined 14th May)
After we make list of interested buyers from Central Asia, who will participate at this meetings, we will share this list at 8th June.

---
ADVANTAGES OF ONLINE MEETINGS:
1- You will meet only with buyers, who are interested in your products
2- At online exhibition usually advertised only event, but at such online meeting we will advertise only you and your products.
3- You don't need to fill a lot of forms like at online exhibition.
4- You don't need to wait when buyers will send appointment for meetings (like at online exhibitions ), we will find you these buyers and also you will get this list of interested buyers!
5- For Buyers in Central Asia Zoom platform is easier for use than online exhibition platform. It helps to attract more buyers.
6- After our online meeting, as you have all list of interested buyers, you can make private meetings.