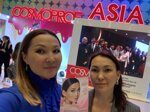 COSMOPROF ASIA 2019 - 24th International Exhibition of Cosmetic Products, Production Equipment and Technologies for the Cosmetic Industry
20.11.2019 00:00
On November 12, our team visited the largest exhibition in the beauty industry CosmoProfAsia2019 in Hong Kong. During the negotiations, interest was shown in the Central Asian market by exhibitors from Korea and China. During the visit, we held many negotiations not only with companies, but also with associations of the beauty industry, as well as with agents who were happy to represent our interests in their countries. Once again Cabeauty has announced itself on the world platform as the largest exhibition in Central Asia!
Visiting the INTERCHARM Professional exhibition in Moscow
30.10.2019 00:00
Last week, our team made the next business trip to Moscow, where the International Specialized Exhibition "INTERCHARM Professional" was held. For our part, we notified the participants about the upcoming CENTRAL ASIA BEAUTY EXPO 2020 exhibition, which will be held on September 3-5, 2020. During the negotiations, the exhibitors showed rapid interest in the Central Asian market, and accordingly preliminary reservations for participation in the exhibition were made. We want to note that we are pleased with our negotiations and now we are even closer to our goal!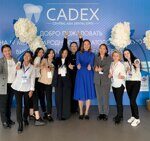 CADEX exhibition was held for the 4th time in Almaty
21.10.2019 00:00
The largest exhibition in the field of dentistry Central Asia Dental Expo, was successfully held on October 17-19!
The exhibition was attended by 150 companies from 20 countries, many workshops and seminars for dentists were held.
CENTRAL ASIA BEAUTY EXPO successfully held!
12.08.2019 00:00
On August 8-10, for the second time, the largest beauty exhibition in all of Central Asia was successfully held.
Participants and visitors of the exhibition noted the scale of the event and the professionalism of the events held at the exhibition!
Invitation CADEX circled all over Kazakhstan, Uzbekistan, Kyrgyzstan and Tajikistan
31.07.2019 00:00
In order to attract dentists to the CADEX exhibition, our employees traveled to all large and medium-sized cities of Kazakhstan, Uzbekistan, Kyrgyzstan and Tajikistan:
1. Astana (June 3-8)
2. Kyzylorda, Shieli, Zhanakorgan, Turkistan, Kentau, Shymkent, Taraz, Merke, Shu (June 12-26)
3. Taldykurgan, Usharal, Tekeli (July 15-20)
4. Semey (June 22-27)
5. Oskemen, Pavlodar, Aksu, Kokshetau, Petropavlovsk, Kostanay (July 12-26)
6. Aktau, Uralsk, Aktobe and Atyrau (August 6-18)
7. Zharkent, Shelek (July 20-21)
8.Karaganda (all of July)
9. Almaty (September)
10. Dushanbe (August-September)
11. Tashkent, Samarkand, Ferghana (August-September)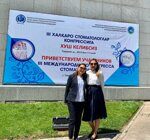 Cadex team in Tashkent
13.05.2019 00:00
In order to attract dental visitors to the CADEX exhibition, we went to hot Tashkent.
We took part in the III International Congress of Dentists and invited all its participants to our dental exhibition. It is gratifying that many already know about us and look forward to and plan to arrive at the exhibition.
Cabeauty team in Tashkent
13.05.2019 00:00
In order to attract participants to the Central Asia Beauty Expo-2019 beauty and cosmetics exhibition, our representatives visited the 15th international specialized exhibition of the beauty industry in the Republic of Uzbekistan, which was held on May 2-4, 2019 in Tashkent.
As a result of the visit, two exhibitors were attracted to participate in our CABEAUTY2019 exhibition and a census of distributors of Uzbekistan was conducted.
Cabeauty team in Moscow
30.04.2019 00:00
The INTERCHARM Professional exhibition (spring) is one of the largest specialized exhibitions in Russia and the CIS for professionals in the beauty industry and salon business. The team of the Central Asia Beauty Expo could not miss this event, and of course we visited there!
Meetings with old friends and new acquaintances, which means new participants at our exhibition. This year over 500 companies took part in the exhibition, each of which presented the latest in the beauty industry. Speakers at the workshops talked about new trends and trends. All that we have learned, we will tell you, our dear subscribers.

Cabeauty Team in Dubai
18.04.2019 00:00
In order to attract foreign manufacturers of cosmetics, perfumes, natural products, etc. Cabeauty team visited BWME in Dubai. For 3 days, 1,500 cosmetic companies from around the world learned about our exhibition and 15 of them expressed a desire to participate in Cabeauty 2019, on August 8-10 in Almaty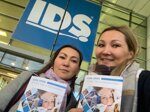 CADEX team visited Cologne

16.03.2019 00:00

Sunexpo team will promote the largest dental exhibition in Central Asia, Central Asia Dental Expo (CADEX-October 17-19, 2019 / Almaty / Kazakhstan www.cadex.kz) at the IDS exhibition on March 12-15, 2019.

We will also visit Cosmoprof Bologna March 16-17, 2019 to attract exhibitors to the largest exhibition of beauty and cosmetics in Central Asia. Central Asia Beauty Expo, August 8-10, 2019 / Almaty / Kazakhstan. www.en.cabeauty.kz.



Pages: 1 [ 2 ] [ 3 ]