Cabeauty team in Moscow
30.04.2019 00:00
The INTERCHARM Professional exhibition (spring) is one of the largest specialized exhibitions in Russia and the CIS for professionals in the beauty industry and salon business. The team of the Central Asia Beauty Expo could not miss this event, and of course we visited there!
Meetings with old friends and new acquaintances, which means new participants at our exhibition. This year over 500 companies took part in the exhibition, each of which presented the latest in the beauty industry. Speakers at the workshops talked about new trends and trends. All that we have learned, we will tell you, our dear subscribers.

Cabeauty Team in Dubai
18.04.2019 00:00
In order to attract foreign manufacturers of cosmetics, perfumes, natural products, etc. Cabeauty team visited BWME in Dubai. For 3 days, 1,500 cosmetic companies from around the world learned about our exhibition and 15 of them expressed a desire to participate in Cabeauty 2019, on August 8-10 in Almaty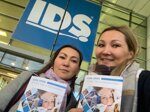 CADEX team visited Cologne
16.03.2019 00:00
Sunexpo team will promote the largest dental exhibition in Central Asia, Central Asia Dental Expo (CADEX-October 17-19, 2019 / Almaty / Kazakhstan www.cadex.kz) at the IDS exhibition on March 12-15, 2019.
We will also visit Cosmoprof Bologna March 16-17, 2019 to attract exhibitors to the largest exhibition of beauty and cosmetics in Central Asia. Central Asia Beauty Expo, August 8-10, 2019 / Almaty / Kazakhstan. www.en.cabeauty.kz.
NS expo team in Bologna

07.03.2019 00:23

Sunexpo team will be promoting the biggest Dental Exhibition in whole Central Asia Central Asia Dental Expo ( CADEX -17- 19 October 2019 / Almaty / Kazakhstan www.cadex.kz) at IDS exhibition 12-15th of March 2019.

Also we will visit 16-17th March 2019 -Cosmoprof Bologna in order to attract exhibitors to the biggest beauty & cosmetic exhibition in Central Asia. Central Asia Beauty Expo, 8-10 august 2019 / Almaty / Kazakhstan. www.en.cabeauty.kz.





CENTRAL ASIA BEAUTY EXPO in Hong Kong20.11.2018 00:23

NS EXPO team was at Cosmoprof Asia Exhibition in order to attract exhibitors to 2nd international Central Asia Beauty Expo, 8-10 august 2019, Almaty, Kazakhstan.






CENTRAL ASIA BEAUTY EXPO in Moscow27.10.2018 00:22

In order to attract participants to the large-scale beauty and cosmetics exhibition in Kazakhstan - Central Asia Beauty Expo ( August 8-10, 2019 ), we visited Intercharm Moscow exhibition on October 2018






Successful opening of the exhibition Central Asian Dental Expo

17.10.2018 00:21

On 17th of October was held successfull openning of 4th international Central Asian Dental Expo.

Exhibition had 150 exhibitors from 20 countries and 6000 visitors from 10 countries.





The successful opening of the exhibition Central Asia Beauty Expo On September 607.09.2018 00:21

The official opening ceremony was held on September 6 with the participation of the President of Association of Beauty Industry of the Republic of Kazakhstan - Mahmujan Tursun and the Chairman of the Society for the Development of Cosmetology of Uzbekistan - Isamuhamedova Lola. .






CABEAUTY & CADEX were in whole cities of Kazahstan, Kyrgyzstan & Tajikistan30.08.2018 00:20

In order to attract more visitors to CABEAUTY & CADEX exhibitions Sunexpo team together with organizers visited all cities of Kazakhstan like Astana, Pavlodar, Kostanay, Kokshetau, Petropavlovsk, Semey, Taldykurgan, Shymkent, Taraz,Kyzylorda, Atyrau,Aktau, Aktobe, Almaty,also in Bishkek, Dushanbe and Samarkand.






CENTRAL ASIA BEAUTY EXPO in Tashkent25.06.2018 00:20

On June 21-23, Central Asia Beauty Expo employees were in Tashkent, Uzbekistan to attract participants and visitors!




Pages: [ 1 ] 2 [ 3 ]